BENEFITING:
EVENT DATE: Nov 01, 2011
THE STORY:
Hello family and friends,
Looking for your help here...
Aunt June LOVES to read but can only do so with the help of an "Enhanced Reading Machine". There is one where she lives, but she has had difficulty using it according to Kathleen McWiggin, her social worker at Ann's Choice. She was trained to use it by a representative from the Pennsylvania Association For The Blind... but it hasn't helped. Apparently it's an older machine and not very user friendly.
Aunt June did well with the machine at Linden Ponds, her former residence in Hingham. I talked to her social worker there, Bonnie Haley, and she gave me the make and model. Unfortunately, it's been discontinued but there is a new and improved version (there usually is, right?).
Check it out...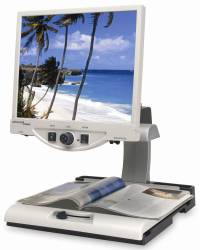 Would you be willing to make a donation towards helping us obtain this machine for Aunt June? They are not cheap ($2,800) but if we all band together and give our best, I am confident that we can get there. I have been and will continue to be on the look out on auction sites for gently-used machines to save some money, but in the meantime, can we agree on the goal of a new machine to give us a focus?
Here's the link if you want more info...
http://www.visual-techconnection.com/merlnlcd.htm
It's pretty cool. While it won't help Aunt June cross the "digital divide", rest assured... it will help her to read, write, look at photos, do crosswords, and all the other stuff old people do. Can you imagine where you would be without being able to read?
Okay, here's the deal
I am using this event website because I have used it before for church events - Easter and Christmas. It's Verisign approved and PCI compliant. Most of all, it makes it easy for you and I to share with other friends and family via facebook, twitter, and email... and it can process credit card payments (for a small fee).
To be clear, there is no Aunt June event :) I am simply using this online facility to create a web page that you can all go to and share, make a donation, and process payments.
I am allowing two weeks for us to raise the money, hence the event date of November 1. And I am hoping 50 people will donate, hence the 50 tickets number. Five days subsequent to the end of "our event", Eventbrite will cut me a check and I will purchase the machine and have it shipped to Aunt June.
Okay... if you are ready to go, enter your donation in the "amount" field and then hit "register". This will take you to the payment page. You can pay by credit card or hit "payment options" to pay with a check offline. Some of you will need to go big for us to hit our goal, others... do what you can, it will be very much appreciated.
Thanks for your consideration,
Chris
P.S. Will one of you Gen Y'ers / digital natives want to volunteer to put together a picture album? It would be cool if the first thing Aunt June views with her new machine is a family / friend photo album. I could have contributors send you pix, you compile, and upload to flickr or shutterfly and make into an album.